A Creature Was Stirring (Hardcover)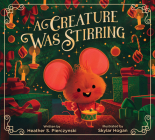 Description
---
In this irresistible spin on a timeless holiday tale, debut author Heather Pierczynski and artist Skylar Hogan's reveal why only a mouse is singled out within The Night Before Christmas. A perfect stocking stuffer and cozy read by the fireplace to induce plenty of giggles and laughter.
'Twas the night before Christmas,
when all through the house,
not a creature was stirring, not even a—
MOUSE!
He had never heard of a mouse not stirring.
It was the most glorious night of the year!
So he stirred. Squeaked! Eeked!
Anything but sleep.  
About the Author
---
Heather S. Pierczynski is a children's author and school social worker from "near Charlotte," North Carolina. Despite objections from her human and fur family, she never goes to bed at a reasonable hour—even on the night before Christmas. A Creature Was Stirring is her first picture book.
Skylar Hogan is an illustrator with countless stories to tell. The Christmas season is his favorite time of year, and he poured a generous amount of holiday cheer into A Creature Was Stirring. Skylar lives in Omaha, Nebraska, with his wife and two children.
Praise For…
---
"[A]n enjoyable romp. Fun Yuletide fare for the up-all-night crowd." — Kirkus Reviews
"?'Twas the night before Christmas' in this variation on 'A Visit from St. Nicholas,' but the poem's leading creature, Mouse, can't seem to settle down. Luckily, the big guy has just the right gift for the wide-awake mouse. Hogan's digital illustrations glow with toasty reds and oranges—coloring that suggests the holiday and Mouse's energy alike. It's hard not to sympathize with the over-excited Mouse's night-before plight in this wind- down story from Pierczynski." — Publishers Weekly
"A fun take on the Christmas classic 'Twas the Night Before Christmas that will have readers laughing and guessing what mischief might happen next. Children will easily relate to how difficult it is to get to sleep and dream of sugar plums when they are too excited for the arrival of a special visitor." — School Library Journal