Thinline Bible-NASB (Imitation Leather)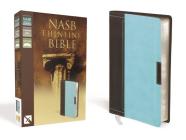 This item is not readily available. Please call or email for more info. We can quote price and time frame.
Out of Print - Not currently on our shelf. Special Order, Price Subject to Change, Call for Pricing
Description
---
The NASB, long respected for its literal translation approach, is now available in a Thinline Bible edition with a fresh, new Italian Duo-Tone(TM) binding. Features: - Full text of the New American Standard Bible, updated- Extra-thin--less than one inch thick- Concordance- Promises and Perspectives from the Bible- Words of Christ in red.