Froggy Goes to School (Prebound)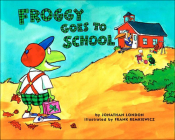 This item is not readily available. Please call or email for more info. We can quote price and time frame.
Out of Print - Not currently on our shelf. Special Order, Price Subject to Change, Call for Pricing
Description
---
Froggy's mother knows that everyone's nervous on the first day of school. Not me says Froggy, and together they leapfrog to the bus stop. Full color.