Desktop Disco Fever: Lights! Sound! Boogie! (RP Minis) (Paperback)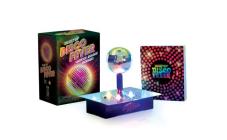 This item is not readily available. Please call or email for more info. We can quote price and time frame.
Out of Print - Not currently on our shelf. Special Order, Price Subject to Change, Call for Pricing
Description
---
Desktop Disco Fever has everything you need--including a mini disco ball with lights and sound--to set the stage for a dance party right on your desk!
This kit includes:
Mini disco ball, with four flashing, colored lights and 60 seconds of music
Printed mat
32-page illustrated mini book