The Elements Magnet Set: With Complete Periodic Table! (RP Minis) (Paperback)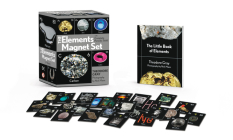 $12.95

Not currently on our shelf. Special Order - Price Subject to Change
Description
---
Display and play with the building blocks of life with The Elements Magnet Set!
Based on the iconic images from Theodore Gray's bestselling book
The Elements
, this beautiful magnet set is the perfect way to add a little atomic flair at work and home. Spell out a fun message or just display and inspire some awe for all the elements that make up the world around you. This miniature kit includes:
121 element magnets, each highlighting an important piece of the periodic table. Magnet size is approximately 1" x 1"
48-page book exploring the world's most important elements, with full color-photographs throughout
About the Author
---
Theodore Gray is the author of the recently released Reactions as well as The Elements, Molecules and Theodore Gray's Completely Mad Science: Experiments You Can Do At Home, But Probably Shouldn't. He is the creator of the bestselling iPad apps "Elements" and "Molecules," which have both been named "App of the Week" by Apple and was Director of "Disney Animated" (also honored by Apple as "iPad App of the Year"). Gray appeared on stage with Steve Jobs several times in his capacity as a software creator. He also co-founded Wolfram Research, Inc., makers of the widely-used software Mathematica and the Wolfram Alpha website. He lives in Urbana, Illinois.

Nick Mann is the photographer of The Elements: A Visual Exploration of Every Known Atom in the Universe and Molecules: The Elements and the Architecture of Everything. Aside from having photographed more elements, molecules, and reactions than probably anyone in the world, he is an accomplished landscape, sports, and event photographer. He also lives in Urbana, Illinois.