Marilyn's Monster (Paperback)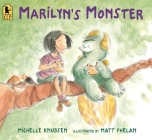 Description
---
"Rich with feeling . . . a warm, gently funny reminder to chase down one's dreams, rather than waiting for them to appear on the doorstep." — Publishers Weekly (starred review)

Some of the kids in Marilyn's class have monsters. Marilyn doesn't have hers yet, but she can't just go out and look for one. Your monster has to find you. That's just the way it works. Marilyn tries to be patient and the kind of girl no monster can resist, but her monster doesn't come. Could she go out and search for him herself? Even if that's not the way it works?
About the Author
---
Michelle Knudsen is the New York Times best-selling author of Library Lion, illustrated by Kevin Hawkes; Argus, illustrated by Andréa Wesson; Big Mean Mike, illustrated by Scott Magoon; and Marilyn's Monster, illustrated by Matt Phelan, as well as the Trelian middle-grade fantasy trilogy and the Evil Librarian YA horror-comedy trilogy. She lives in Brooklyn, New York, and is terrified of spiders.

Praise For…
---
Knudsen ("Library Lion") once more offers a gentle reminder that sometimes you have to break a rule in order to do the right thing. ...It's a lesson ideally suited for a helicopter-parented, standardized-test-soaked generation of girls — and boys, too — who are offered few chances to advocate for themselves and solve their own problems.
—The New York Times

Rich with feeling, it's a warm, gently funny reminder to chase down one's dreams, rather than waiting for them to appear on the doorstep.
—Publishers Weekly (starred review)

Knudsen's charming story is a great fit for Phelan's gentle watercolor-and-pencil illustrations. With just a few lines and brushstrokes, he depicts the wide range of Marilyn's emotions, from wary hopefulness to sullen grumpiness to, finally, utter joy. The whimsical, friendly monsters are equally expressive, and their supernatural antics in the background will tickle funny bones. Little ones feeling lonely or worried about making friends will be empowered by Marilyn's determined, take-charge attitude.
—Booklist

A surprising spin on monsters with nicely effective artwork—and heart.
—Kirkus Reviews

Every one of Phelan's monsters is wonderfully weird, and readers will have fun noting similarities between them and their human friends.
—School Library Journal

In Mr. Phelan's tender and witty pencil drawings, we see goofy, preposterous monsters choosing their human companions.... Ms. Knudsen has packed a surprising amount of relatable emotion into this story of humility and derring-do.
—The Wall Street Journal

This is an intriguing and offbeat story, and Knudsen's matter-of-fact narration effectively draws readers into the situation, while subtly engaging kids at their emotional core.
—Bulletin of the Center for Children's Books

The green-toned watercolor and colored pencil illustrations will delight young readers
—School Library Connection