Just a Story (Hardcover)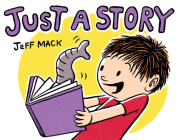 Description
---
Reading is wild, dangerous... fantastic! The possibilities are endless, the perils enormous--good thing it's just a story.

A boy happens upon a discarded book that transforms a library into an escalating series of near misses and close encounters with dastardly pirates, a herd of scooter-riding elephants, a big blue whale, and is that an alien in an Elvis wig?

But surprise, he escapes without a scratch, because it's just a story...

With an exuberant art style reminiscent of newspaper comic strips, illustrator Jeff Mack brings imagination to life in this riotous tale about the power of reading.
About the Author
---
Jeff Mack is the author and illustrator of many books for young readers, including Hush Little Polar Bear, Good News, Bad News, and Clueless McGee. He has also illustrated award winning picture books and chapter books such as Eve Bunting's Hurry! Hurry! and James Howe's Bunnicula and Friends. He lives in Western Massachusetts.
Praise For…
---
"Extolling literature's transportive properties, this picture book follows a child who discovers a magical purple tome at the library. . . . A gently humorous reading adventure."—Publishers Weekly

"The deadpan text is a foil for the rowdy artwork, cheery scenes littered with clues for alert viewers: a tree sprouting out of the floor, a lion paw, book covers themed with the coming comical attacks, and a library lady who carries on unflappably throughout the mayhem." —Bulletin of the Center for Children's Books

"The imaginative power of a story, brought to life. —Kirkus Reviews