Secret Soldiers: A Novel of World War I (CD-Audio)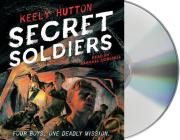 $34.99

Not currently on our shelf. Hard to Find, Potentially out of print, Call for pricing and availability
Description
---
Over a quarter million underage British boys fought on the Allied front lines of the Great War, but not all of them fought on the battlefield—some fought beneath it, as revealed in this middle-grade historical adventure about a deadly underground mission.

Secret Soldiers follows the journey of Thomas, a thirteen-year-old coal miner, who lies about his age to join the Claykickers, a specialized crew of soldiers known as "tunnelers," in hopes of finding his missing older brother. Thomas works in the tunnels of the Western Front alongside three other soldier boys whose constant bickering and inexperience in mining may prove more lethal than the enemy digging toward them. But as they burrow deeper beneath the battlefield, the boys discover the men they hope to become and forge a bond of brotherhood.

Secret Soldiers is another stunning story of strength, perseverance, and love from Keely Hutton.
About the Author
---
Keely Hutton is a children's book author and former English teacher. She worked closely with Ricky Richard Anywar to tell his story in her debut novel, Soldier Boy, which Booklist named one of the top ten first novels of the year and one of the top ten historical novels for youth the following year. Her second novel, Secret Soldiers, was a Bank Street Best Children's Book of the Year and a Children's Book Council Notable Social Studies Book for Young People. She is also the co-author of Achut Deng's coming-of-age memoir Don't Look Back, which recounts Deng's journey from South Sudan to America. Keely lives in Rochester, New York, with her husband, two sons, and adorable dog, Maximus.

Raphael Corkhill is an award-winning stage, screen and voice actor. Born and raised in the UK, Raphael graduated from Princeton University then gained his MFA in acting from the University of Southern California. Raphael's film and television credits include the Warner Bros. feature The Goldfinch, independent TV pilot Manny, and Burning at Both Ends alongside Cary Elwes. His extensive voice credits include billion-dollar video game franchises: Uncharted 4 (BAFTA "Best Game" winner), The Elder Scrolls Online and Titanfall 2, as well as the recent blockbuster ESO: Morrowind. Raphael has narrated numerous titles for Macmillan including The Fallon Trilogy and his audiobook performances have been described by Publisher's Weekly as "terrific."