Only What's Necessary 70th Anniversary Edition: Charles M. Schulz and the Art of Peanuts (Hardcover)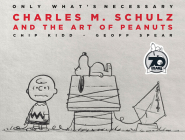 Description
---
From award-winning author/graphic designer Chip Kidd, Only What's Necessaryis the Eisner Award–nominated tribute to Charles M. Schulz celebrating the art of Peanuts.

Introduction by Jeff Kinney
Preface by Jean Schulz
Essay by Paige Braddock and Karen Johnson

Charles M. Schulz believed that the key to cartooning was to take out the extraneous details and leave in only what's necessary. For 50 years, he wrote and illustrated Peanuts, the single most popular and influential comic strip in the world. Chip Kidd was granted unprecedented access to the extraordinary archives of the Charles M. Schulz Museum and Research Center in Santa Rosa, California.

Only What's Necessary reproduces the best of the Peanuts newspaper strip, all shot from the original art by award-winning photographer Geoff Spear, and features exclusive, rare, and unpublished original art and developmental work—much of which has never been seen before.

About the Author
---
Chip Kidd is an award-winning graphic designer, writer, and editor at large at Pantheon. His books on comics include Only What's Necessary: Charles M. Schulz and the Art of Peanuts, Peanuts: The Art of Charles M. Schulz, Shazam! The Golden Age of the World's Mightiest Mortal, Mythology: The DC Comics Art of Alex Ross, and Marvelocity: The Marvel Comics Art of Alex Ross, among others. He lives in New York City.

Geoff Spear shot all the photography for Batman Collected, Batman Animated, Bat-Manga!, Peanuts: The Art of Charles M. Schulz, and Mythology: The DC Comics Art of Alex Ross. His award-winning photographs have appeared regularly in Vogue, Entertainment Weekly, GQ, Newsweek, and the New York Times, and on numerous book covers.

Jeff Kinney is a #1 New York Times bestselling author of the Diary of a Wimpy Kid series and the Awesome Friendly Kid series. He is a six-time Nickelodeon Kids' Choice Award winner for Favorite Book and has been named one of Time magazine's 100 Most Influential People in the World. He spent his childhood in the Washington, D.C., area and moved to New England, where he and his wife own a bookstore named An Unlikely Story.