Peanuts 2020 Mini Day-to-Day Calendar (Calendar)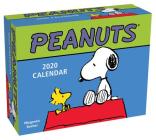 This item is not readily available. Please call or email for more info. We can quote price and time frame.
Out of Print - Not currently on our shelf. Special Order, Price Subject to Change, Call for Pricing
Description
---
Celebrate 70 years of the PEANUTS gang with the Peanuts 2020 Mini Day-to-Day Calendar.
Perfect for small spaces, each full-color page features a pose of CHARLIE BROWN, SNOOPY, LINUS, SALLY, LUCY, or one of the other lovable PEANUTS characters.
Features include:
Compact size (approximately 3.5" x 2.5" x 1.5")
Day/Date reference on each page
Versatile backer includes both easel and magnets
Full color and spot illustrations on each page
About the Author
---
Charles Schulz is a legend. He was the hand and heart behind 50 years of Peanuts, which featured one of the world's most beloved and recognizable cast of cartoon characters, until his death in 2000.