Tricks to Appear Smart in Meetings 2021 Day-to-Day Calendar (Calendar)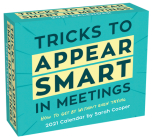 This item is not readily available. Please call or email for more info. We can quote price and time frame.
Out of Print - Not currently on our shelf. Special Order, Price Subject to Change, Call for Pricing
Description
---
From bestselling author and founder of popular satire blog TheCooperReview.com comes this all-new daily calendar with a year's worth of tips for succeeding fabulously at work with minimal effort.
You'll learn familiar corporate strategies for appearing engaged while zoning out, using meaningless buzzwords in the right context, creating impressive presentations of no value to anyone, and much, much more. Each daily page includes a valuable tip for fooling coworkers into thinking that you're shrewd, engaged, and trying. With this perfect calendar for every office desktop, you'll laugh each day at the fresh tricks and sly satire on corporate conventions.
Other features include:
Tear-off pages
Day/date reference on each page
Includes official major world holidays
Recyclable plastic easel backer for desk or tabletop display
About the Author
---
Sarah Cooper is a writer, comedian, speaker and author of the bestselling book, 100 Tricks to Appear Smart in Meetings. She built her comedy career in between working as a user experience designer for companies like Yahoo! and Google, where she was fed free lunches and lots of material. She is the creator of satirical blog TheCooperReview.com, which attracts millions of readers around the world and has been featured in The Washington Post, Forbes, Fast Company and countless other publications. Sarah lives in New York City.