Eeny Up Above (Hardcover)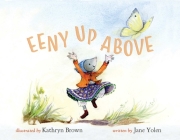 $17.95

NOT on our Shelf. Order now!
Description
---
Curious Eeny Mole emerges from her dark hole home to discover the world up above

There were once three sisters who lived at the bottom of a deep, dark hole. Their names were Eeny, Meeny, and Miney Mole. In that hole dark was light, day was night, and summer and winter seemed the same. The older sisters, Meeny and Miney, were happy in their hole. They loved the deep darkness of it, the soft dreaminess of it, the familiar tidiness of it. They did not ever want to leave.

One day Eeny Mole discovers something wonderful Up Above. And she goes exploring.
About the Author
---
The amazingly prolific Jane Yolen, has been called "America's Hans Christian Andersen." She is the distinguished author of over 300 books, including Fairy Tale Feasts, Jewish Fairy Tale Feasts, Owl Moon and Devil's Arithmetic. She lives on an old farm in western Massachusetts with numerous moles who do not seem to be afraid of anything. She enjoys taking walks along the river near her house and visiting people, including her editors—in fact, she wrote this book in the office of one of them.

Kathryn Brown has illustrated numerous highly-acclaimed picture books for children. She lives with her husband and their daughter near Jane Yolen in western Massachusetts. She did not, however, use the moles on Jane Yolen's farm as models for this book. (They were too hard to catch.)
Praise For…
---
"An endearing picture book … The beautifully worded text and strong but delicate illustrations create a charm all their own … Although Eeny first braved the Up Above in Yolen and Brown's Eeny, Meeny, Miney Mole (2018), familiarity with the earlier book is not a prerequisite for enjoying this satisfying story of a little mole who bravely ventures forth and returns to tell the tale."
— Booklist

"Like Spring … Brown's soft illustrations echo Beatrix Potter's in both delicacy and whimsy, and Yolen's story of bravery justified should put a smile in readers' hearts."
— Kirkus Reviews

"Eeny, a small, winsome mole, lives with older sisters Meeny and Miney in a cozy underground dwelling. Meeny and Miney are content with the home's 'deep darkness' and 'familiar tidiness,' playing chamber music and bathing Eeny in a tea cup, but Eeny loves the world Up Above ... In graceful prose, Yolen describes Meeny and Miney's warnings about the dangers of Up Above, including eagles, cats, and humans ... Brown draws the plants and animals that sweetly pinafore-clad Eeny meets in lively, delicate detail, and makes the apparently white human who surprises Eeny manifestly nonthreatening in this morsel of a bedtime adventure. Ages 3–8."
— Publishers Weekly

"Yolen's poetic narrative is expertly paced and has a nicely varied repetitive pattern, giving the familiar story of venturing forth into new territory a fresh flavor. Brown's watercolors are just right: the menage is homey, though with clues to its being underground; the older sisters are visibly set in their ways, while Eeny (like Henkes's mice) is sweet but refreshingly persistent. Perfect for sharing aloud. (Picture book. 4-8)"
— Kirkus Reviews on "Eeny, Meeny, Miney Mole"

"PreSchool-Grade 1—The text is carefully constructed, with thoughts building upon one another and reality clothed in poetic contemplation. This is also a book of opposites, of questions, and of astonishing answers… The characters have such full and individual personalities, and the vision of all the rooms visited is so complete, that readers will be drawn into each earth-brown picture. Young Eeny is especially engaging as she pulls her doll in its acorn wagon, a shovel by her side, energy and innocent determination in each stride. A notable effort by both author and illustrator."
— School Library Journal on "Eeny, Meeny, Miney Mole"

"Just as children often wonder about the earth beneath their feet, the littlest mole here sets out to discover the world 'Up Above.' When Eeny is told by her sisters that there is light as well as darkness, winter and summer too, she tries to imagine these concepts in familiar terms, envisioning light, for example, spreading like a blanket. Finally she burrows out of her hole and experiences spring. In its celebration of the duality and complexity of nature, Yolen's inventive text abounds with wisdom and humor—her imagery and linguistic skills lift the tale far above the ordinary. The older moles scold, 'Don't listen to addlepated centipedes'—using the kind of large, old-fashioned words children love to hear. When Eeny ponders things she has never seen, she thinks imagistically, like a poet: 'She wondered if light . . . touched in and out like the thread in the hem of a dress.' Brown's gracefully droll watercolors—more mature in technique than in her earlier Mule dred—portray the underworld with fanciful touches: an acorn serves as a doll's carriage, a jonquil becomes a periscope. The palette of befogged earth tones is complemented by scattered spots of luminescence when lanterns, fire and glass light up the underworld. Ages 4-8."
— Publishers Weekly on "Eeny, Meeny, Miney Mole"