Inklings on Philosophy and Worldview (CD-Audio)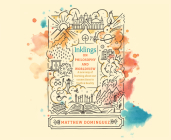 $24.99

Not currently on our shelf. Special Order - Price Subject to Change
Description
---
Teens live in a complicated world. They are constantly bombarded by messages from their friends, parents, teachers, the internet, and their churches, and not all of these messages agree or line up with each other. How do students figure out who to listen to? How do they figure out what is true?

Inklings on Philosophy and Worldview will show teens practical ways to filter out the wrong messages and focus on what is real. Using teachings from highly respected, loved, and well-known writers, teacher Matthew Dominguez will show teens the power of story as he guides them through a study of world religions, philosophies, and worldview, and gives them a firm foundation to stand on as they prepare to face the world.
About the Author
---
Matthew Dominguez is an educational trainer, speaker, and teacher and has studied at Houghton College in New York and Keble College in Oxford, and received his masters from the University of Illinois at Chicago.  Currently, he is a philosophy, literature, and discipleship teacher and the adventure club director at Wheaton Academy in West Chicago, Illinois.  With over twenty-five years of teaching experience and Kingdom community-building experience, he is passionate about the exciting journey of equipping students and leaders to make their faith their own by knowing what they believe and why they believe it.  It is his deep joy to be on this grand adventure of Kingdom building and loving others with his wife, Jennifer, and four children, Anna, Elijah, Olivia, and Ivy.