108 Awesome Yoga Poses for Kids: Stomp Like a Dinosaur, Flutter Like a Butterfly, Breathe Like the Sun (Paperback)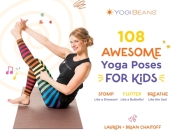 Description
---
Let's Go on a Yoga Adventure!

Wiggle and giggle your way through these amazing yoga poses that will help you feel good!

Inside this book, you'll find tons of playful yoga positions that will show you how moving your body can be fun. Let your imagination soar as you become a bouncing Frog, a magical Mermaid or a soaring Rocket Ship with these simple, silly stretches. Plus, learn how to slow your breathing and calm down when you're mad or sad with poses like Lion's Breath or Sun Breath.

So, get ready to twist, scoot, stretch, bend and become a yoga pro! You'll love these yoga poses, and how awesome you feel after!

*Special Features*
- Creative, child-friendly pose names (with traditional Sanskrit name given underneath if applicable)
- Large, colorful images of each pose
- Premium "lay-flat" binding that stays open, hands free!

Each Pose Page Contains...
- "Who/What Am I?" clue with fun facts for children to guess and play
- "Let's Move" written instructions for proper positioning
- Picture of the inspiration animal or object to ignite children's interest and curiosity
- Age recommendation to help you choose age-appropriate poses
- Pose type and anatomical focus to aid yoga teachers with pose choices and sequences
- Positive "I AM" value statements to encourage children's positive self-talk

An ideal guide for yoga teachers, parents, caregivers and yoga lovers of all ages!
About the Author
---
Lauren is one of the cofounders of Yogi Beans, a renowned children's yoga and wellness organization. A certified yoga instructor, Lauren has been featured on Good Morning America and ABC News. Yogi Beans teaches kids yoga classes, provides instructor trainings and educates children and their caretakers on holistic health and well-being. Lauren and her husband Brian live in Long Island, New York, with their two daughters.
Praise For…
---
"These fun, interactive and engaging pages give children a novel introduction of the mind-body-heart connection threaded with social-emotional learning."
— Kristin McGee, celebrity yoga and pilates teacher, author and Peloton instructor

"108 Awesome Yoga Poses for Kids is colorful, fun and beautiful to page through, with pose themes that feel fresh and whimsical, like Start Your Engines and Home Sweet Home. I love its ease of use for children and grownups alike: For quick reference, each pose is not only clearly demonstrated, but marked with its recommended age range, anatomical focus and an affirmation, like "I am beautiful." Packed with fun ideas, 108 Awesome Yoga Poses for Kids is a book you'll return to again and again!"
— Kira Wiley, award-winning children's music artist and author