On Eagle Cove (On Bird Hill and Beyond #4) (Hardcover)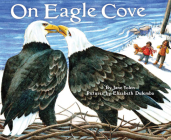 Other Books in Series
This is book number 4 in the On Bird Hill and Beyond series.
Description
---
Mass Books Picture Book/Series Must Reads WINNER
The fourth book in the acclaimed ON BIRD HILL & BEYOND series
As I walked out towards Eagle Cove, Skipping through a greening grove, I followed where the pathway led-- And spied a great big lake ahead. From the prolific Jane Yolen comes On Eagle Cove, a sparkling new addition to the On Bird Hill & Beyond series. A young birder and her mother hike beside a lake and experience the majesty of an eagle aerial show. They spy a massive nest, high in a tree, and understand that the two eagles dancing across the sky are a mating pair. Soon, there will be chicks, and the girl and her mother return to the nest months later for a peek at the new little lives. On Eagle Cove reunites Jane Yolen with award-winning illustrator Elizabeth Dulemba for this quiet walk through nature that leads to an unexpected encounter with the magnificent Bald Eagle.
- Full color photographs and fascinating details
- effects of environmental toxins on eagles
- tips on how to see one in real life.
Wildlife to discover in this book:
Mallard
Wood Duck
American Black Duck
Green-Winged Teal
Hooded Merganser
American Wigeon
Gladwell
Great Blue Heron
Great Egret
Red-Winged Blackbird
American Box Turtle
Red-eared Slider
Eastern Gray Squirrel
Eastern Cottontail
Raccoon
American Bullfrog
White-tailed Deer
Dragonfly
35% of the net proceeds from every Cornell Lab Publishing Group book purchase will support projects such as children's educational and community programs.
About the ON BIRD HILL & BEYOND SERIES
The ON BIRD HILL & BEYOND series invites children to reclaim the freedom to explore, wander and adventure outdoors.
Created especially for the Cornell Lab of Ornithology - the world leader in the study, appreciation, and conservation of birds - by New York Times bestselling author Jane Yolen and renowned illustrators Bob Marstall and Elizabeth Dulemba. The series artfully engages the senses to see, feel, hear, and touch the natural world and the life within.
Back matter contains information on birds and wildlife depicted with full-color photos and "How You Can Help" suggestions for budding naturalists and birders.
RAVE REVIEWS FOR ON BIRD HILL...
"Expressively captures a luminous moment of discovery in the natural world. On Bird Hill leaves space for the imagination and underscores the surprising wonder found in everyday moments." -- School Library Journal
"It's a sweetly surreal meditation on the everyday wonders that await in the wild."--Publisher's Weekly
"Beautiful and enchanting."--Hooked on Books
"...opens your eyes to the extraordinary in the ordinary of nature. I look forward to more books in the series..."--NC Teacher Stuff
About the Author
---
Jane Yolen has authored more than 365 books, including the Caldecott-winning Owl Moon, loved by children and bird watchers of all ages, You Nest Here With Me, a popular new favorite, and the New York Times bestselling series How Do Dinosaurs...? Jane Yolen's books have been translated into over 20 languages and are popular around the world. Many of Ms. Yolen's books are about wildlife, especially the winged kind. Jane lives in Hatfield, Massachusetts. Elizabeth Dulemba has always loved birds. As a kid, she used to run across the yard, flapping her arms, trying to fly. She later became a hang glider pilot in Tennessee. When not chasing birds, Elizabeth loves to draw, write, and teach. She has over two dozen titles to her credit, including her debut, award-winning novel A Bird On Water Street. In summers, she teaches in the Children's Book Writing and Illustrating MFA program at Hollins University in Virginia. She spends the rest of her time in Scotland, where she is pursuing a PhD at the University of Glasgow. Sign up for her weekly newsletter at www.dulemba.com