Sonny Rollins Plays the Bridge (Hardcover)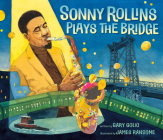 $17.99

NOT on our Shelf. Order now!
Description
---
James Ransome's glorious art celebrates jazz icon Sonny Rollins and how he found an inspired spot to practice his saxophone when his neighbors complained.

Sonny Rollins loved his saxophone. As a teenager, he was already playing with jazz stars and making a name for himself. But in 1959, at age twenty-nine, he took a break from performing—to work on being a better, not just famous, musician. Practicing in a city apartment didn't please the neighbors, so Sonny found a surprising alternative—the Williamsburg Bridge. There, with his head in the clouds and foghorns for company, Sonny could play to his heart's content and perfect his craft. It was a bold choice, for a bold young man and musician.


Sonny's passion for music comes alive in jazzy text and vivid, evocative paintings of New York City. His story celebrates striving to be your very best self, an inspiration to music lovers young and old.
About the Author
---
Gary Golio is a fine artist, musician, and psychotherapist. He is the author of Dark Was the Night: Blind Willie Johnson's Journey to the Stars and the New York Times bestseller JIMI: Sounds Like A Rainbow--A Story of the Young Jimi Hendrix, as well as many other award-winning books. He lives in Briarcliff Manor, New York.

James Ransome is the illustrator of many award-winning picture books, including The Creation (by James Weldon Johnson), which won a Coretta Scott King Award for Illustration, and Let My People Go (by Patricia McKissack), winner of an NAACP Image Award. His other books include This Is the Rope (by Jacqueline Woodson), Young Pele (by Lesa Cline-Ransome), and Sky Boys (by Deborah Hopkinson). He lives in upstate New York with his wife, author Lesa Cline-Ransome, and their family.
Praise For…
---
★ "Based on a true story, this charming picture book captures and shares the spirit and rhythm of Sonny's playing. The free verse text makes nice use of figurative language ("The river is a shiny endless song," "the sprawling spider city") and Ransome's gorgeous representational art, richly created with watercolor and collage, expands the story beautifully. Together, text and art are a happy exercise in harmony to delight readers' ears and eyes. Following the story, readers will find back matter offering more details on Rollins' life, beliefs, and music, as well as the Williamsburg Bridge."—Booklist, starred review

★ "The harmony represented on the page...is also reflected in the harmony between the poetic text and the artistic images: Both show an African American man who finds peace on his own terms, in his own space, doing what he is meant to do...Ransome's illustrations convey character, mood and setting to great effect, matching the spare, effective text with energy and vibrancy that tempt readers to seek out Rollins' sound. This meditation on music, art, and integrity offers inspiration and food for thought. This loving tribute is a generous introduction to a figure worth knowing."—Kirkus Reviews, starred review

★ "In an evocative snapshot of a moment in a musician's life, Golio celebrates Black saxophonist Sonny Rollins's (b. 1930) private escape to a public place. . . . Ransome creates vivid watercolor and collage spreads. . . . Ransome doesn't stint on background scenery; he paints the structure, the buildings below it, and even the traffic along the river with reverence. Up on the bridge, golden bubbles of effervescent sound burst from the bell of Rollins's instrument as he plays to his heart's content . . . against the rhythm of trains 'clanking clanging' and 'tugboats/ blowing bass notes.' The creators' deliberate lines and detailed visuals sing like music themselves as they pay homage to an artist who finds a way to ring out loud and clear." —Publishers Weekly, starred review

★ "Poetic book...Rich, figurative language. This book would be a terrific support to studying poetry with students…The lush watercolor illustrations are highly detailed and support the text wonderfully...Positive representations of Black artists are always welcome additions to library collections, and this work stands out as a biography in verse. Recommended for elementary collections, especially for poetry, biography, and music units." —School Library Journal, starred review

"Golio is known for his picture-book biographies about musicians, and here his precise and expressive free verse is well paired with Ransome's evocative art. In beautiful watercolor and collage he splendidly captures both the vibrant spirit of the city and the luminous persona of the jazzman. Back matter includes information about Rollins's career and the Williamsburg Bridge as well as some of Rollins's own words." —Horn Book